---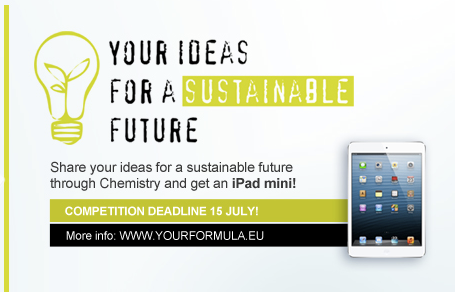 Share your ideas for a sustainable future competition
Your Formula fans! Would you like to help enhance awareness, improve general knowledge, and communicate the importance of advancing sustainable chemistry in our planet? And get an iPad mini as well? Then, we invite you to share your ideas for a sustainable future!
---

Chemistry makes an irreplaceable contribution in every aspect of our modern-day lives in ways that often we take for granted. It plays an essential role in sectors as diverse as agriculture, automotive, clothing, communication, construction, food, health, leisure, mobility, plastics, space, transport, etc.
And with a world with depleting resources and growing population, the need for more sustainable practices in both consumer and industrial industries are becoming more important.
That's why we are looking for a fun and creative answer to the question:
"What is chemistry's role in building a sustainable future?"
You can submit your concept as:
A Youtube video
A slideshow or
An image (such as a poster, an infographic or an advertisement).
The best entry will be selected by a judging panel and the number of times the entries are 'liked', 'retweeted' and 'shared' on social media (Facebook, Youtube and Twitter).
Students and young professionals (between 18 to 30) from the EU are invited to join and submit entries. The contest runs until 15 July.
What are you waiting for?
---
David Spichiger, SCS
14.06.2013