---
International Conference & Exhibition on Sustainable Chemistry & Engineering
Congress Center Basel, 19 –21 November 2013


---
What is Ecochem?
We bring together the world's most influential industry and government leaders, scientists, young future leaders and innovators from across the chemical industry and value chains to accelerate innovation, research, commercialisation and market uptake in the design, production and use of efficient, effective, safe and more environmentally benign chemical products and processes.
Find out more

Three packed days of 200+ interactive presentations and keynotes with audience participation and feed-back, business case examples, super-charged networking, negotiation sessions, creative open and closed sessions and workshops, panel discussions, industry awards, innovation 'pods' and technology exhibition.
View the full program
Take advantage of the opportunity to bring your latest innovations, technologies, products and services to the attention of a large number of 2,000+ qualified decision makers in the sustainable chemistry sector.
Discover the opportunities
Swiss National Technology Platform

for

Sustainable Chemistry
At the Ecochem event in Basel, with a conference day on Industrial Symbiosis on the 19th of November, the Swiss National Technology Platform for Sustainable Chemistry will be launched officially. A sharing economy, tackling grand societal challenges such as energy efficiency, resources management, waste and water handling, and the development and use of clean technologies, is the focal point of SusChem Switzerland, bridging industry gaps with innovation pathways to shape the society, the environment and the economy of the future. Shaping solutions together.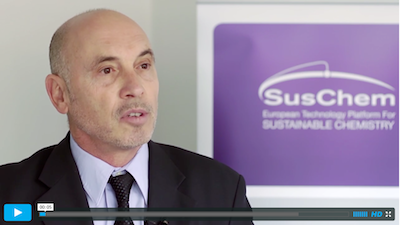 Save the date and join us at ecochem on Nov 19, 2013.
More Information on http://ecochemex.com

---
David Spichiger, SCS
07.09.2013