---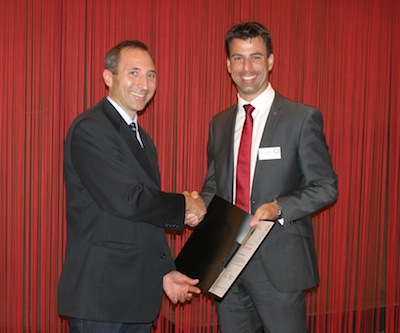 Sina Saxer, FHNW, Romina Dörig, who was representing the team of Prof. Christiane Zaborosch from ZHAW and Götz Schlotterbeck, FHNW were honored with the SCG-FH Award for their project in the field of 'Analytics in the Life Sciences'.


Picture: Prof. Götz Schlotterbeck, FHNW takes
the award and the congratulations from
David Spichiger, Executive Director of the SCS.
---
The SCG-FH Awards are given for innovative joint-projects between Universities of Applied Sciences (FH) and their industrial partners. The award ceremony and the following lectures were held at the ILMAC Forum in Basel as part of the fair's forum program.
On Wednesday, 25.09.13 the winners of the categories 'Molecules for Life Sciences' were honored and on Friday, 27.09.13 the winners of the category 'Chemistry & Environment' will be awarded. All project are also shown at the shared stand of the SCG and the FH as part of the project exhibition.


Winners of the SCS-FH Award in the category 'Analytics in theLife Sciences'
Dr. Sina Saxer, FHNW
Printing enzymes for colorimetric assays on paper

Romina Dörig, ZHAW (Prof. Christiane Zaborosch)

Development of a high sensitivity label-free waveguide interferometry instrument: A project between the Center for Biochemistry ZHAW and Creoptix GmbH

Prof. Götz Schlotterbeck, FHNW

Synergy of metabolic profiling, pharmacological testing and process engineering enables in auguration of a bamboo pilot plant extraction unit in Fuijan, China
ILMAC-Forum: an interesting 4-days program
Program of the ILMAC-Forum
SCS/FH Stand: Hall 1.1, Stand C84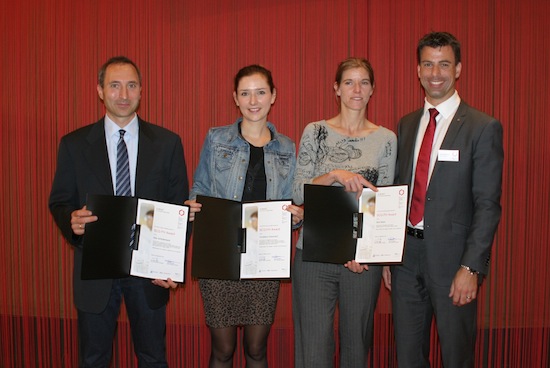 from left: Götz Schlotterbeck, Romina Dörig, Sina Saxer, David Spichiger
---
David Spichiger, SCS
26.09.13