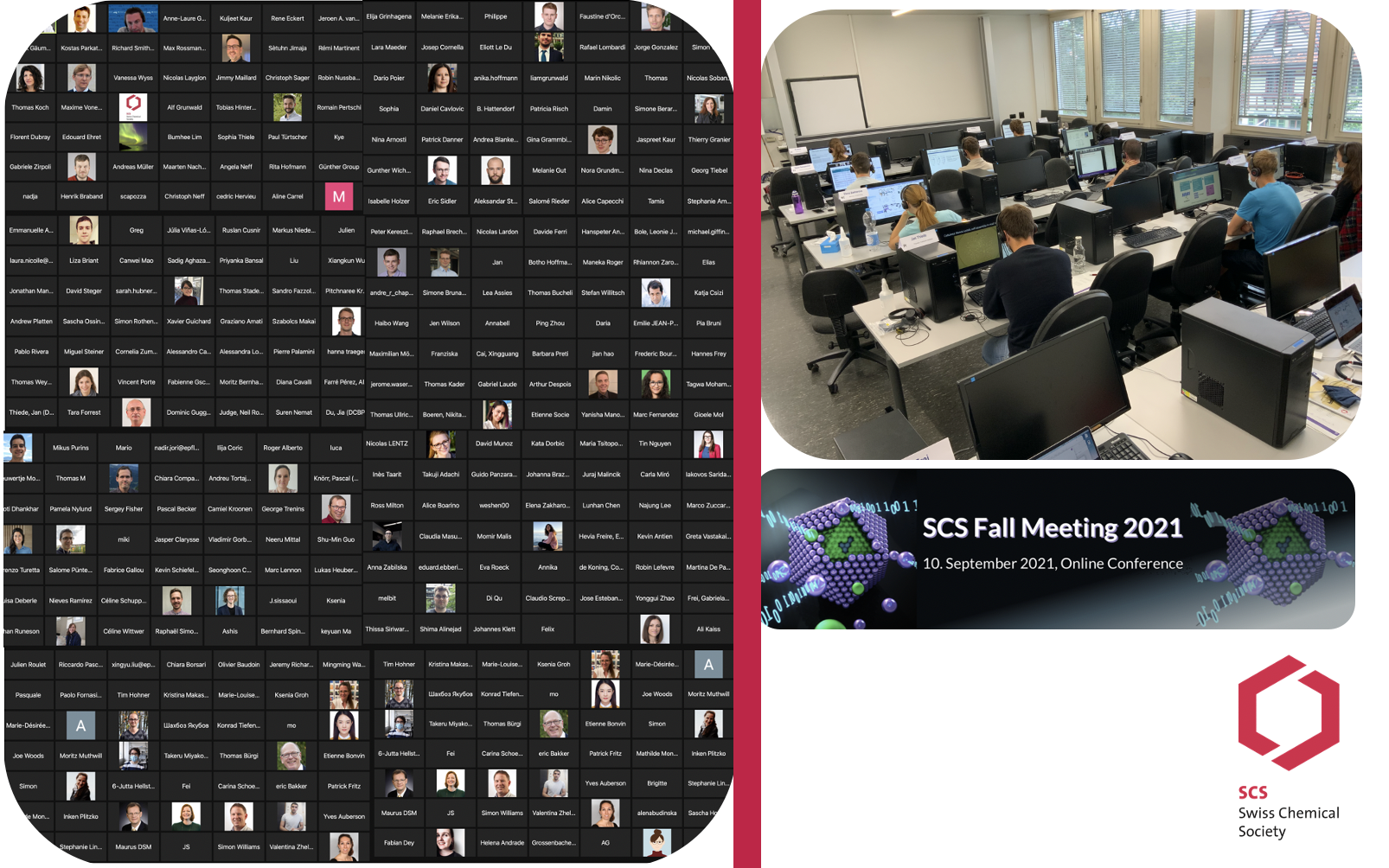 The SCS Fall Meeting 2021, one of the largest annual research conferences was held in Switzerland. For generations of young chemists educated in Switzerland, the Fall Meeting has been a great platform to present their research – often for the first time ever at a major conference - and to be inspired by the people one gets to meet. After a successful event last year, we were using the same platform again for this edition due to the uncertain situation with the ongoing pandemic. For the second time the Fall Meeting took place as an online conference to fulfill the regulations of the government and to facilitate safe exchange of scientific information. 
SCS Fall Meeting 2021
Online Conference
Friday, 10. September 2021, 09:15 – 18:30
fm21.scg.ch

Despite the special circumstances we received about 422 contributions from all over the globe for a talk or poster presentation in one of the 9 parallel sessions:

Analytical Sciences 40
Catalysis Science & Engineering 56
Chemistry and the Environment 31
Computational Chemistry 40
Inorganic & Coordination Chemistry 56
Medicinal Chemistry & Chemical Biology 44
Organic Chemistry 67
Physical Chemistry 44
Polymers, Colloids & Interfaces 44

Instead of displaying a (static) image of a classical poster, we decided to grant the presenters a three-minute slot to showcase their research in the form of a video. These videos were on display for the entire week. For the Commercial Exhibition we also created a virtual room through which the participants could enter and view the online booths of the exhibitors. Interactivity, i.e. the exchange between presenter and viewer, was granted through Gather.Town, a virtual platform where you could move around with your avatar and get in 1:1 interaction with other conference participants, the speakers and exhibitors.
The attendance, in terms of sessions established, was very good. Peak attendance was reached with more than 400 participants. The actual number of participants will be higher (estimated over 500 participants)  as some shared the screen with their research group or institute, . 
Program Highlights:
Two plenary sessions with lectures of SCS price winners 2021
Virtual Poster Session during the whole week
Nine thematic parallel sessions with key note lectures and 15min PhD presentations
Best oral and best virtual poster presentation award ceremony
Topics of the parallel sessions were
Analytical Sciences
Catalysis Science & Engineering
Computational Chemistry
Inorganic & Coordination Chemistry
Medicinal Chemistry & Chemical Biology
Organic Chemistry
Physical Chemistry
Polymers, Colloids & Interfaces
Chemistry and the Environment 
---
Céline Wittwer, SCS
13.09.2021