---

Chemical engineer honored for outstanding research in colloid science


---
New York | Heidelberg, 11 September 2014
The Springer journal Colloid and Polymer Scienceawards Orlin D. Velev from North Carolina State University (USA) the Colloid and Polymer Science Lecture 2014. The award committee chose Velev for his visionary contributions to colloid science and innovative colloidal materials, especially in the areas of particle assembly at interfaces, nanostructures that possess electrical and photonic functionalities, microfluidic devices, and biosensors.
"This is the first time that this award has been presented," said Springer Editor Tobias Wassermann. "Our journal Colloid and Polymer Science and the German Colloid Society have established this initiative together with the aim of fostering international scientific exchange in the field of colloid and polymer science."
The Colloid and Polymer Science Lectures will be presented at German Colloid Society (Kolloid-Gesellschaft e.V.) meetings. The award committee consists of representatives from the society and from Springer, the editors of the journal, and the respective conference chairs. The Colloid and Polymer Science Lecture will be delivered by Velev on 19 September 2014 in Mainz, Germany, at the Colloid Society's 20th Ostwald-Colloquium ("Particles_@_Interfaces").
Velev's lecture will focus on "Magnetically Responsive Pickering Foams, Smart Gels and Dynamic Assemblies." He will also summarize the topic in an invited article in Colloid and Polymer Science.
A physical chemist by training, Velev received his PhD from the University of Sofia, Bulgaria, in 1996. He then moved to the University of Delaware in the USA for his postdoctoral studies and began to initiate an innovative program in colloidal assembly and nanomaterials. In 2001 he joined North Carolina State University, where he has held the position of Invista chaired Professor since 2009. Velev has pioneered synthetic strategies for "inverse opals" (a type of three-dimensional photonic crystals), new principles for microscopic biosensors with direct electrical detection, and is active in the fields of electric field assembly and self-assembly processes. He has received numerous prestigious awards for his research and teaching from various organizations.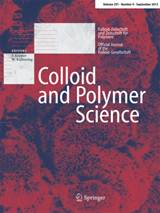 Colloid and Polymer Science is a leading international journal with a long-standing tradition since 1906 of publishing papers in colloid and polymer science and interdisciplinary interactions. The journal includes original articles, short communications, reviews and perspective articles.
Further Information
About the journal Colloid and Polymer Science
www.springer.com/journal/00396
20th Ostwald-Colloquium
http://www.kolloid-gesellschaft.de/index.php/en/events/ostwald-2014
---
David Spichiger, SCS
12.09.2014